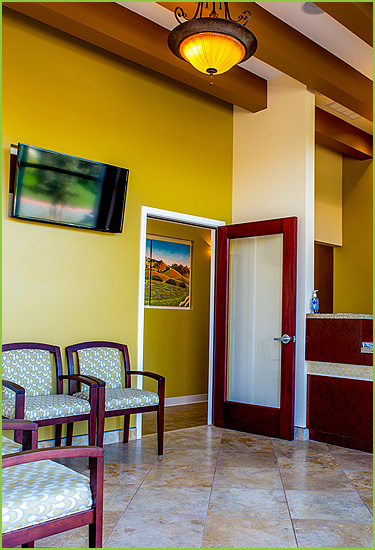 This modern office with state of the art equipment and beautiful, relaxing views of the vineyards opened its doors in December of 2012. On behalf of everybody in the office let me welcome you and your family, and introduce myself.
I've worked as a Dentist for over 20 years. After graduating with honors from the University of the Pacific (San Francisco) I have been working in the Bay Area. Quality of care is, and always will be, my passion and priority. My commitment to quality dentistry is as multi faceted as dentistry itself. It's hundreds of hours of continuing education and certification training. It's using only what I consider best of the class materials, labs, equipment and software. It's relying on staff that shares my dental philosophy. So when you step into our practice, you may safely assume that the best of what dentistry can offer will be applied to solve your problem.
My dental philosophy, based on years of experience, is to make the most of what was given to us, to rely heavily on prevention and to go with conservative treatment options. I firmly believe in a comprehensive approach, i.e. treating the patient, not the disease. To fix problems I will use all modern dentistry tools: composite fillings, crowns, veneers, bridges, digital X-ray scans, CAD (computer assisted design) for orthodontia and implants. All of this in a comforting A-Dec environment with hospital grade sterilization and HEPA air filtration. But people are often pleasantly surprised how much trouble can be avoided by brushing, cleaning and yes, flossing. Whatever your situation, let's find a way to get you to a place where a bi annual check up and cleaning is all you need !
The relationships I've built with my patients are the most rewarding part of my work. I consider myself a family doctor, and I'm proud to have 3 generations of families across the Bay Area in my care. I look forward to partnering with you on your journey towards oral health, no matter where along that journey you find yourself today!
If you want to know more about Alta Vista Dental, please don't hesitate to call or stop by. We will be glad to show our new office and answers all your questions!
Cordially,
Eva Spunde, DDS